YAY! Look what I did with my wall!
Posted: Sat Apr 08, 2006 5:05 pm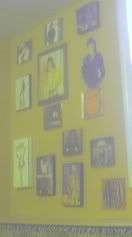 Do you like it? Im still gonna put up a few more things. TUC was so darn heavy it kept on fallin! LOL. Lookit the lil sticker printout of Mike I put on top of the Invincible album! I actually used special tape that wouldnt hurt the cases or TUC *phew* and i tested the tape on an old Cher CD of my moms before I used it on ANY MJ cds! I think i should come up w/ some kind of pattern but this is good for now... What do ya think!?
: