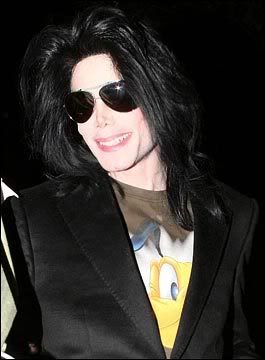 Jackson Is Back in Toon
By LYNSEY HAYWOOD
November 13, 2006
DRAWN Michael Jackson looks more animated than usual as he arrives in Britain – thanks to his T-shirt displaying cartoon mutt Pluto.
Jackson, 48, was in London last night as he prepared for his first UK performance in a decade.
He will recreate his Thriller video with dancers at the World Music Awards in Earls Court on Wednesday.
The last time he sang here was at the 1996 Brit Awards when Pulp singer Jarvis Cocker mocked his rendition of Earth Song.
Jackson – cleared of child abuse charges last year – tried in vain to dodge snappers outside his hotel in Bayswater by using a decoy.
Thanks Zipper from http://www.MjHideout.com